Hello, my name is Nocchi.
Many people may think of Shibuya when they think of Tokyo. As such a famous tourist spot, Shibuya also has a great number of photo spots.
You can take pictures while sightseeing, or you can go there to practice your photography skills.
In this article, I will introduce my 14 favorite spots for photography in Shibuya and my techniques for each of them.
Tokyo Station has become a classic photo spot for photographers and non-photographers alike.
The Taisho-romantic Tokyo Station and Marunouchi Station Building are actually home to a variety of photo spots.
In this article, we will give a light summary of those spots and points of interest, while also explaining some photography techniques.
Summary of photo spots around Shibuya
Because there are so many places to photograph in Shibuya, the locations are so different that it is hard to believe that they are all in the same area.
In addition, many of the stations and buildings have complex structures, so it is recommended that you prepare the locations and the order in which you will go around before you start shooting.
Let me introduce you some of the best spots for photography with some tips and tricks.
Shibuya Scramble Square SHIBUYA SKY
The best observation deck in Shibuya is SHIBUYA SKY at Shibuya Scramble Square.
From a height of 230 meters, the observatory offers a panoramic view of not only Shibuya but also Tokyo.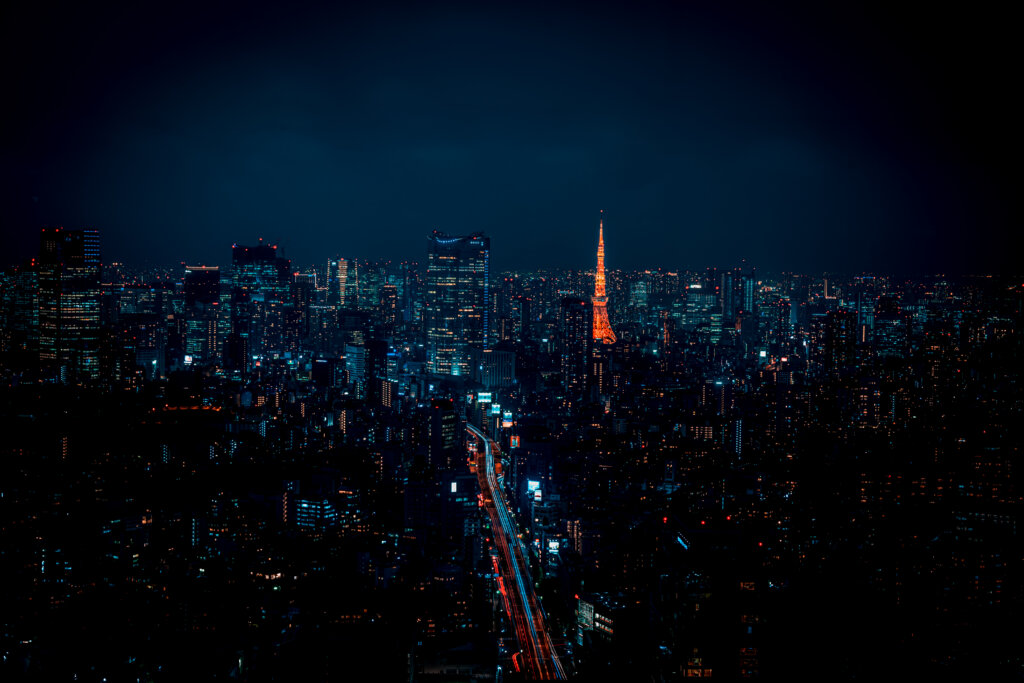 If you want to take a night view of Tokyo, this is a good place to start. The glittering night view of Tokyo and Tokyo Tower are waiting for you.
The observatory is covered with glass windows, which can cause reflections in your photos. To ensure a clear night view, take measures to prevent reflections such as placing the lens perfectly on the glass or using a ninja reflex camera.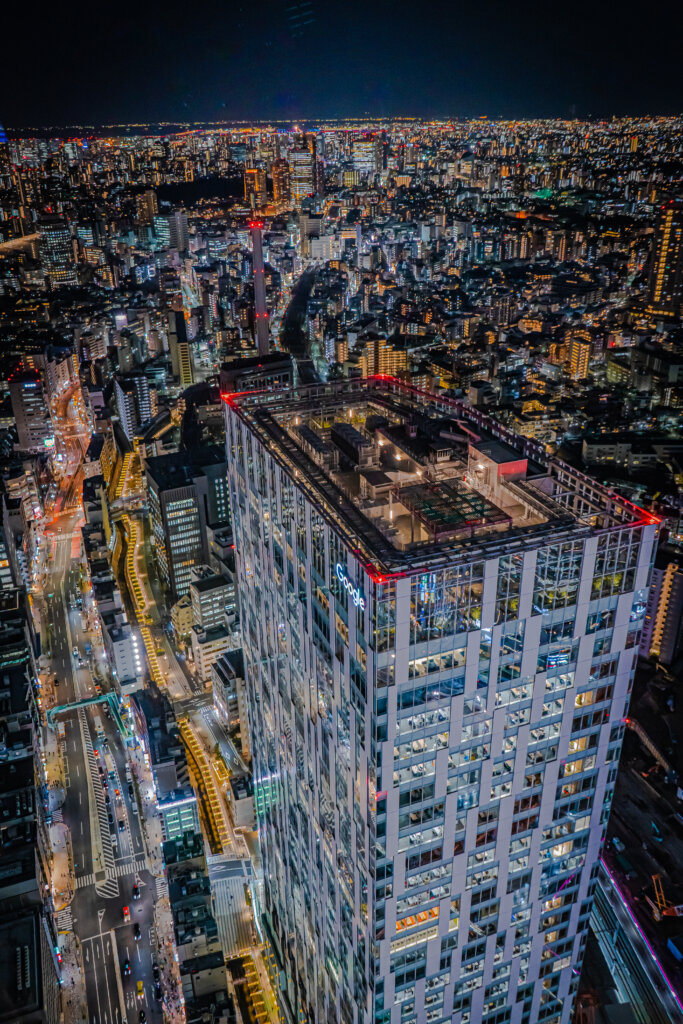 We recommend that you check the website and purchase tickets in advance, as there are various precautions to be taken before visiting the observatory.
SHIBUYA STREAM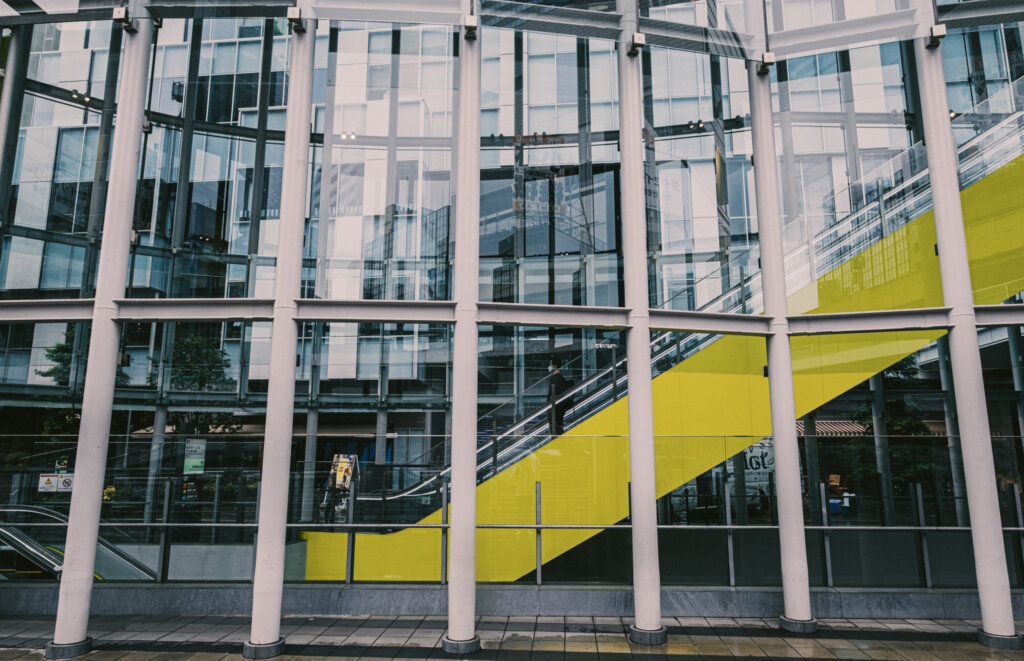 Shibuya Stream, an artistic structure, is another interesting photo spot.
Taking advantage of the unique colors and shapes of the escalators and stairs, this location is often used for portrait as well as snapshots.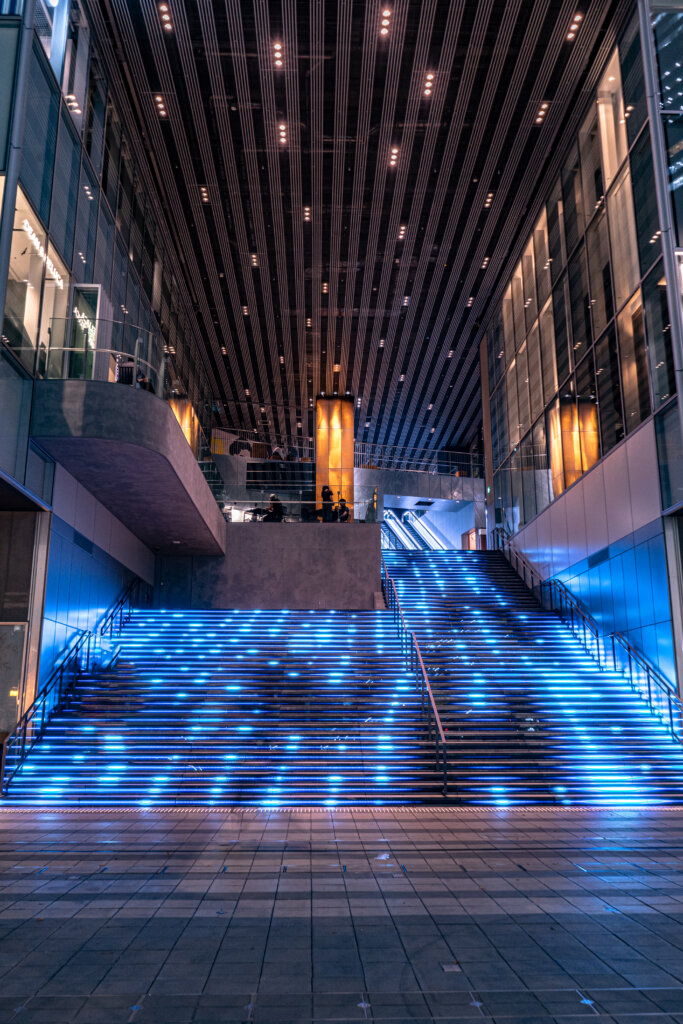 At night, the staircase begins to produce light like illumination, so you will be able to take interesting pictures.
Shibuya Scramble Square SHIBUYA SKY is more famous and easier to photograph, but if you are looking for something a little different, try visiting Shibuya Stream.
The decorations inside the facility also change with the seasons, making it an interesting place to visit.
Shibuya Hikarie Sky Lobby
On the 11th floor of Shibuya Hikarie, there is a free observation facility called the Sky Lobby. Shibuya Hikarie Sky Lobby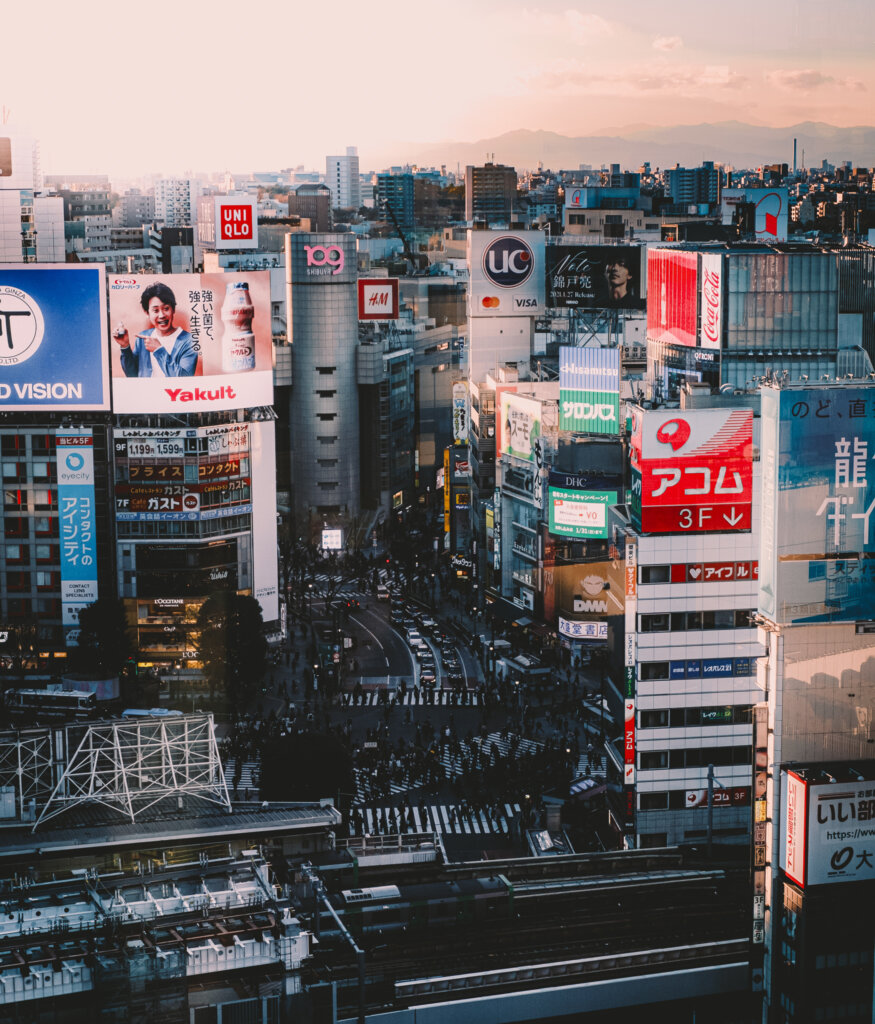 From the Sky Lobby, you can see the central part of Shibuya, including Shibuya 109 and the Scramble Crossing.
You can see the railroad tracks in the foreground, and it is a good spot for taking pictures of various trains such as the Yamanote Line, Saikyo Line, and Shonan Shinjuku Line.
The view is not only toward Shibuya, but also toward Shinjuku, so you can see the skyscrapers of Shinjuku and the Tokyo Metropolitan Government Building, making it a spot where you can take a variety of compositions.
Shibuya Center Street
Many people probably think of Shibuya Center Street when they think of Shibuya.
This street, with its large flow of people and glittering streets, is perfect for snapshots. Personally, I prefer to photograph the glittering atmosphere of the city.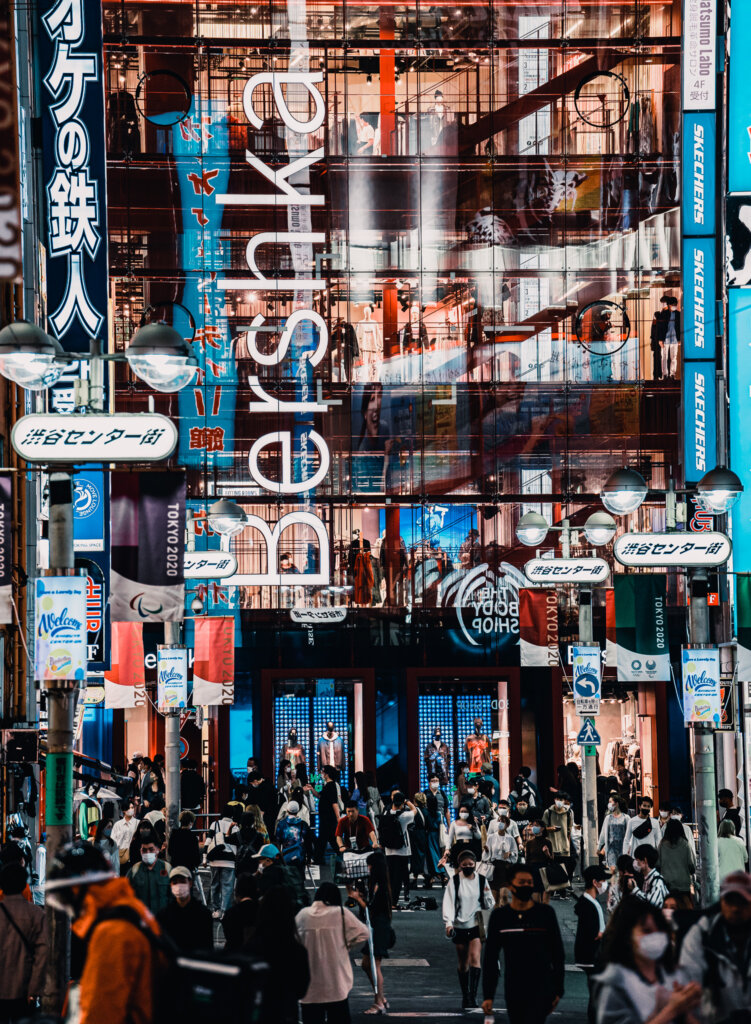 By using a telephoto lens and a compression effect, you can also take pictures that give a sense of the density of people and signboards.
When taking snapshots, be careful not to point the camera too far into people's faces to avoid trouble.
Shibuya Scramble Crossing
Do not forget the Scramble Crossing.
On weekends, it can be a crowded place, but on weekdays it is a very easy spot to photograph.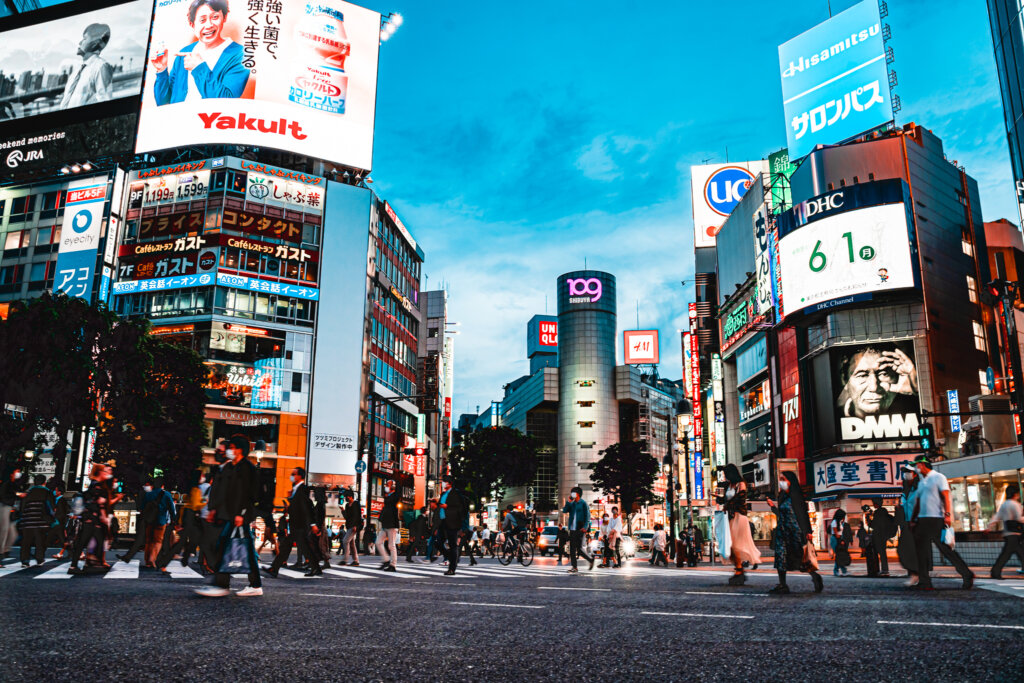 This is a difficult spot to come up with a good idea for a photo, but by shooting from a low angle, the flow of people can be emphasized.
By using a low angle, you can emphasize the flow of people in the scene.
When shooting from a low angle, be careful not to get kicked by passersby.
The second half continues on the next page.