Hello, my name is Nocchi.
One of my shooting styles is night photography.
As a Tokyo resident, I am always thrilled to capture landmark buildings and the glittering Tokyo office district in a single photograph.
There are so many night view photography spots in Tokyo that I find myself parading around in search of night views.
It would be difficult to introduce them all, but I would like to introduce some of my favorite night view photography spots in Tokyo, as well as some tips on how to take pictures of them.
I hope this will be useful not only for those who take photos, but also for those who want to know about night view spots.
What you need for night photography
Before introducing night view spots, we first summarize what is needed for night view photography below.
・Cameras and Lenses
First of all, a camera and lens are essential for photography. There are many details such as a camera with a larger sensor size that takes more beautiful pictures, but basically anything will do.
In some spots, you may need a wide-angle lens to get a good shot, or a telephoto lens to get a good shot, but basically you can use a standard lens or a single focal length lens.
・tripod
A tripod is a must for night photography. You can take pictures without a tripod, but there are a number of reasons: the ISO increases, the picture becomes rough, you can't capture a beautiful glow, and you can't preserve the light traces of the car.
Please refer to the following article for a detailed review of the tripod I use.
・Ninja Ref
The most common night photography is from an indoor observatory. In this case, since the photo is taken through glass, the indoor lights may be reflected in the photo.
To prevent such reflections, use a ninja reflector and hold it close to the window glass. If you want to prevent reflection and take clear pictures, you should consider this as an indispensable item.
・release
This is an item that is not necessary but may be useful if you have it. Since most night photography is done with a slow shutter speed, a slight blur can lead to a large blur.
The moment when the shutter release button is pressed is actually the cause of this blurring. By pressing down the shutter release button, the camera also moves back slightly, causing camera shake.
In such cases, using a camera remote control called "release" makes it possible to release the shutter without pressing the shutter release button.
Even without using a release, the shutter can be released by connecting a smartphone app to the camera or by installing a self-timer in the camera without pressing the shutter release button. These substitutions are possible, so this item is not always necessary.
Summary of Recommended Tokyo Night View Photography Spots
I will now introduce my recommended spots for photographing Tokyo night views.
Shibuya
First, let's start with the night view spots in Shibuya, which may have a strong image among young people.
SHIBUYA SKY
SHIBUYA SKY is the observation facility at Shibuya Scramble Square that opened in November 2019.
With an overwhelming height of 230 meters, it offers a panoramic view of not only Shibuya but also Tokyo.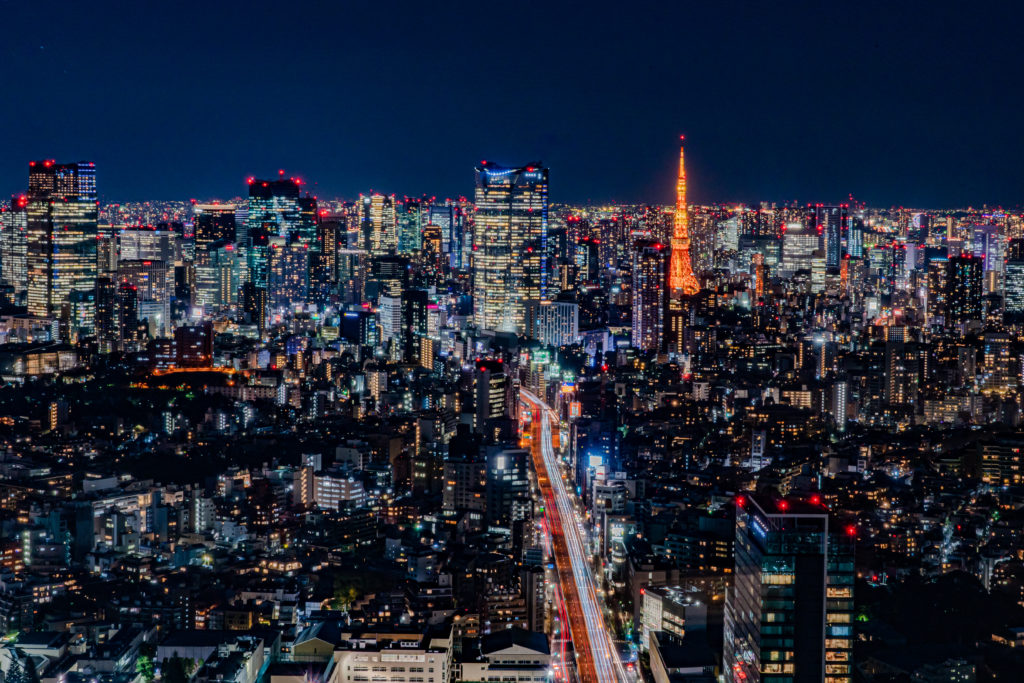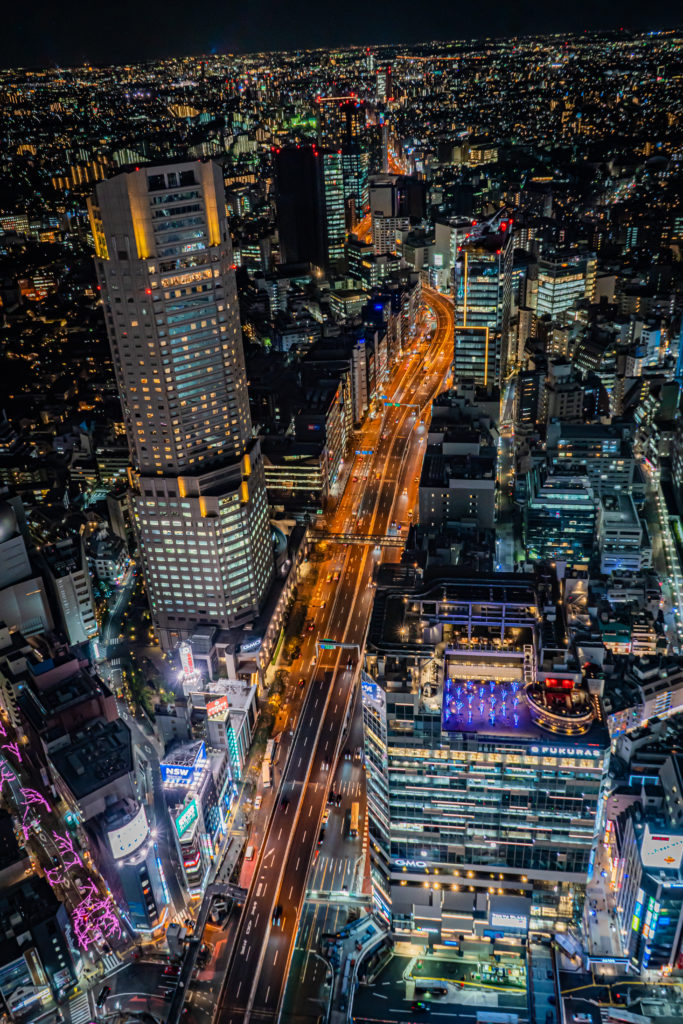 Tripods are not allowed to be carried, but tables and sofas are placed so that the camera can be fixed there for long exposures.
Shibuya Hikarie
Before SHBUYA SKY was built, this observatory of Shibuya Hikarie was the best place to view all of Shibuya.
On the 11th floor of such Shibuya Hikarie, there is a sky lobby where you can look out over the city of Shibuya. This is the spot where you can see that 109, oversized advertising billboards of Shibuya and the scramble crossing in one composition.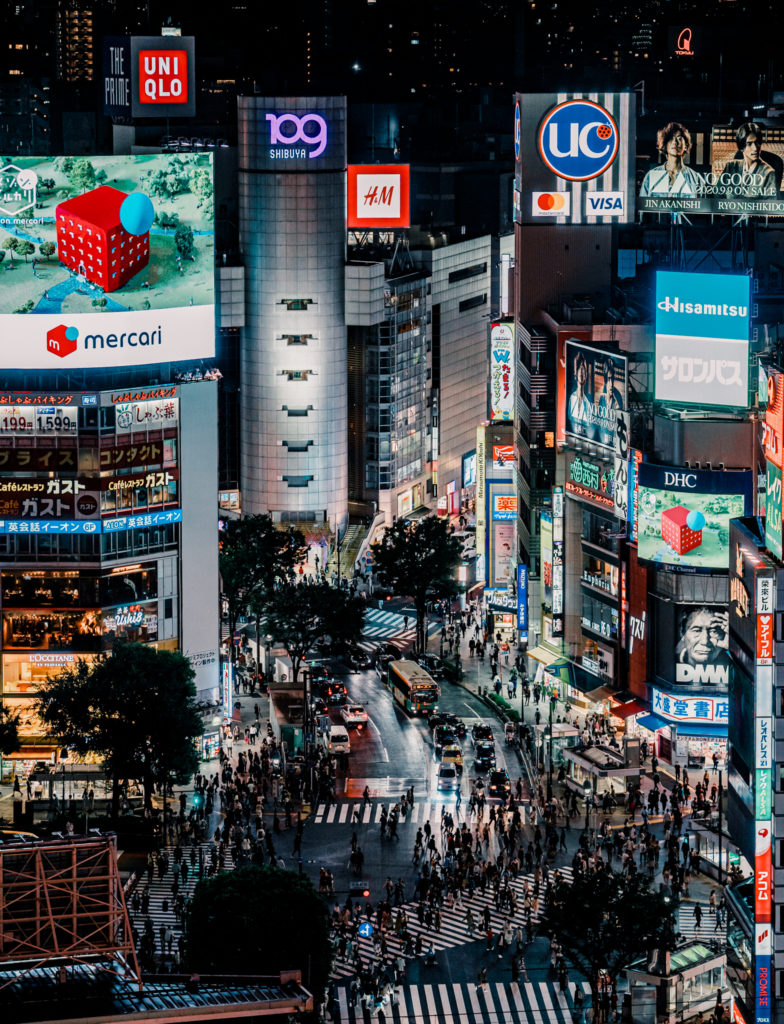 SHIYBA SKY costs about 1,800 yen to go up to the observation deck, but the Sky Lobby at Shibuya Hikarie is free.
Scramble Crossing, Shibuya Center Street
Shibuya is not only an observation deck, but also the scramble crossing and the crowds in the center of the street are also good spots for photography.
The neon lights and crowds that illuminate the streets are a unique Tokyo scenery, so it is interesting to try to capture them.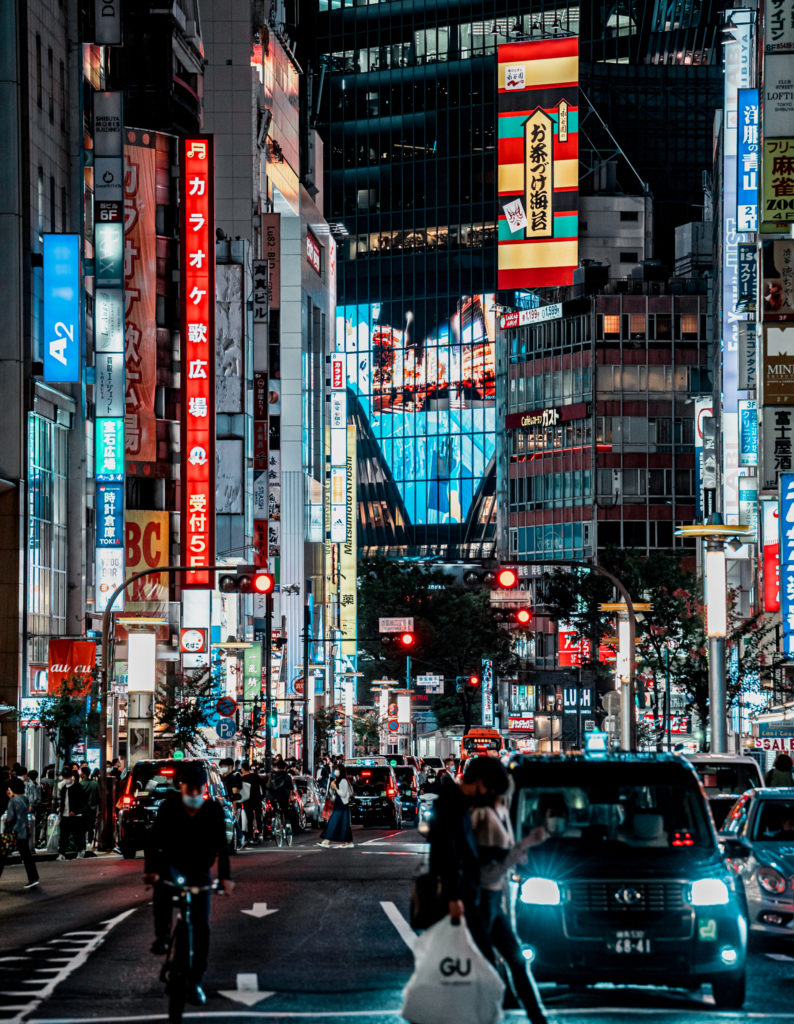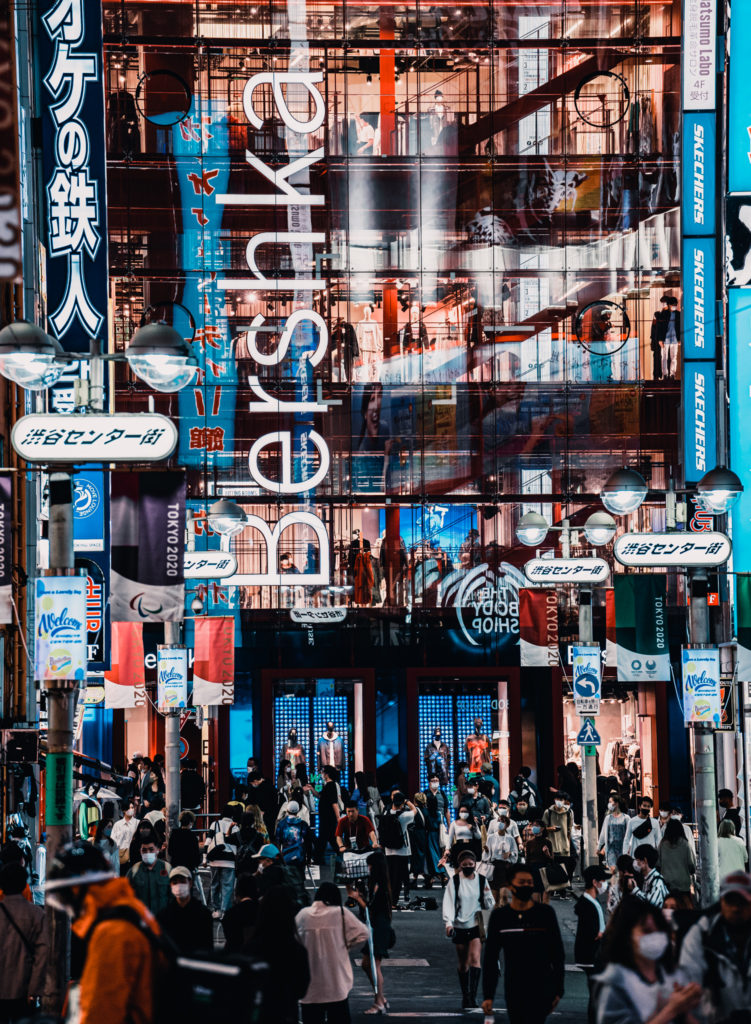 Rather than setting up a tripod and shooting hard, it is better to take snapshots with a high degree of mobility to capture the real daily life of the crowds.
Shinjuku
After Shibuya, Shinjuku is another representative of a bustling town.
Shintoshin Pedestrian Bridge
The Sompo Koua building together with the light trail of the car has become one of the standard photo spots in Shinjuku.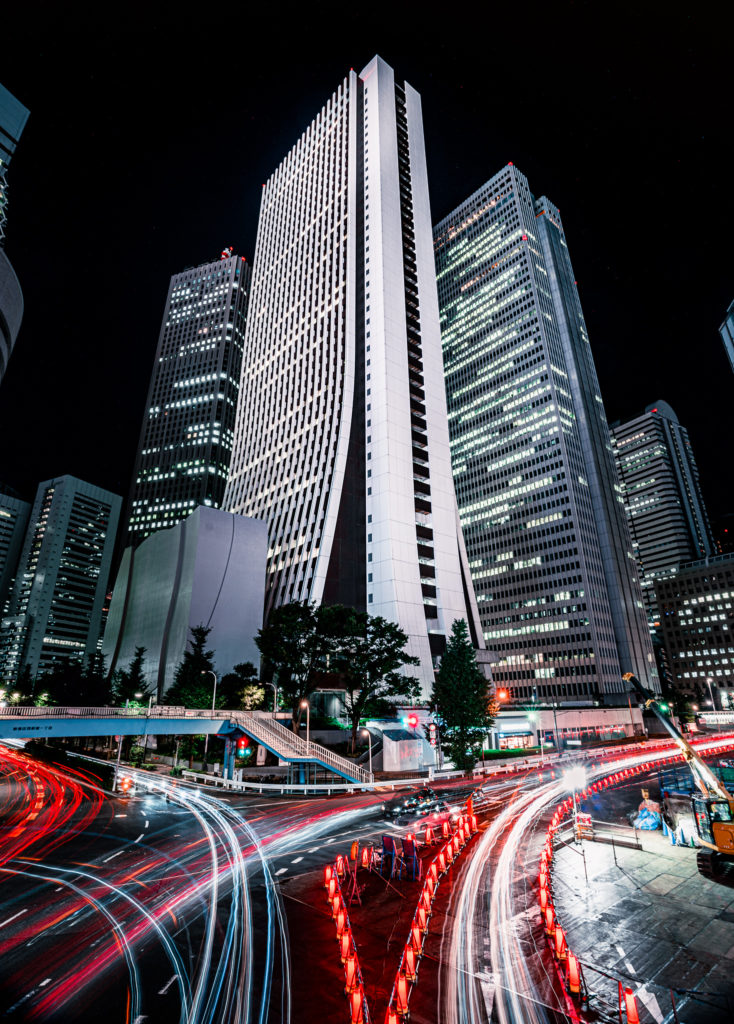 By using a tripod to take long exposures, it is possible to capture the light trails of cars as if they were laser beams.
Since the tripod is positioned on a pedestrian bridge, care must be taken not to disturb passersby. Also, the pedestrian bridge sways quite a bit, so it is necessary to time your tripod so that it does not sway.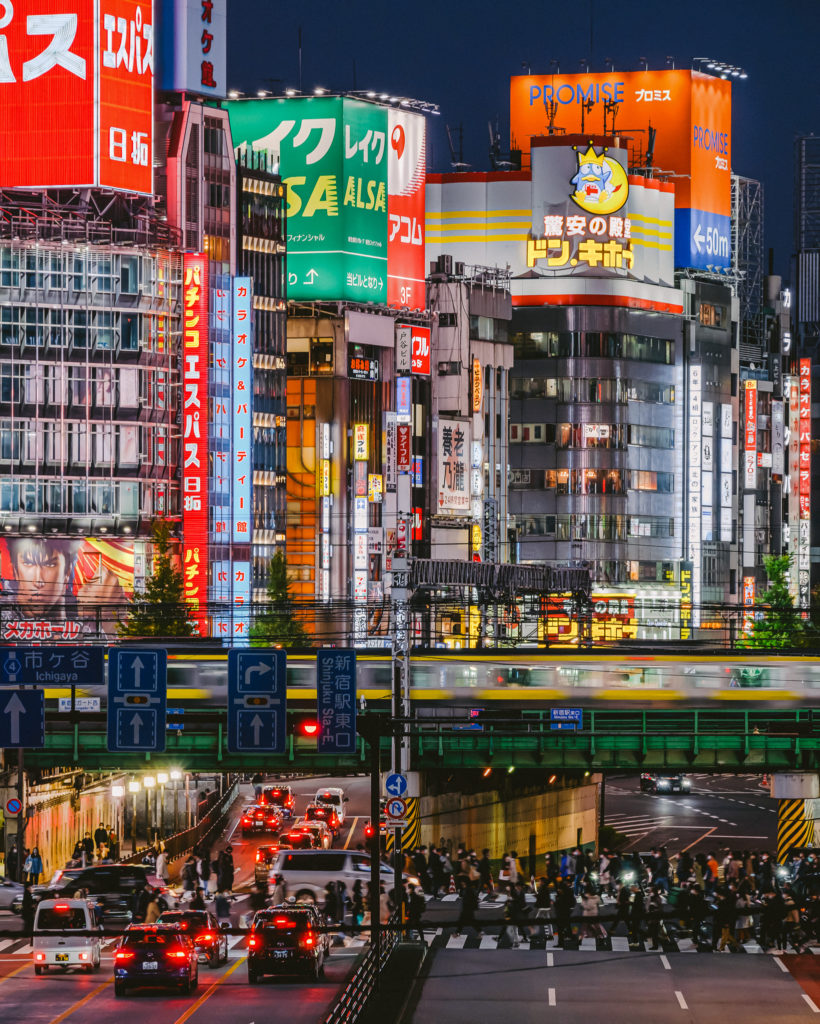 Looking at the opposite side of the Sompo Koua building, the buildings of Shinjuku can be seen.
Such a view of the buildings and the train crossing over is another unique Tokyo scene. At least these two pictures should be kept in mind when viewing the Shin-Toshin pedestrian bridge.
Tokyo Metropolitan Government
The Tokyo Metropolitan Government Building is a famous night view spot because it is lit up at night.
Since there are relatively few people and it is not likely to bother anyone if you take your time taking pictures, this may be a suitable spot for those who want to take their time and practice taking pictures of nightscapes.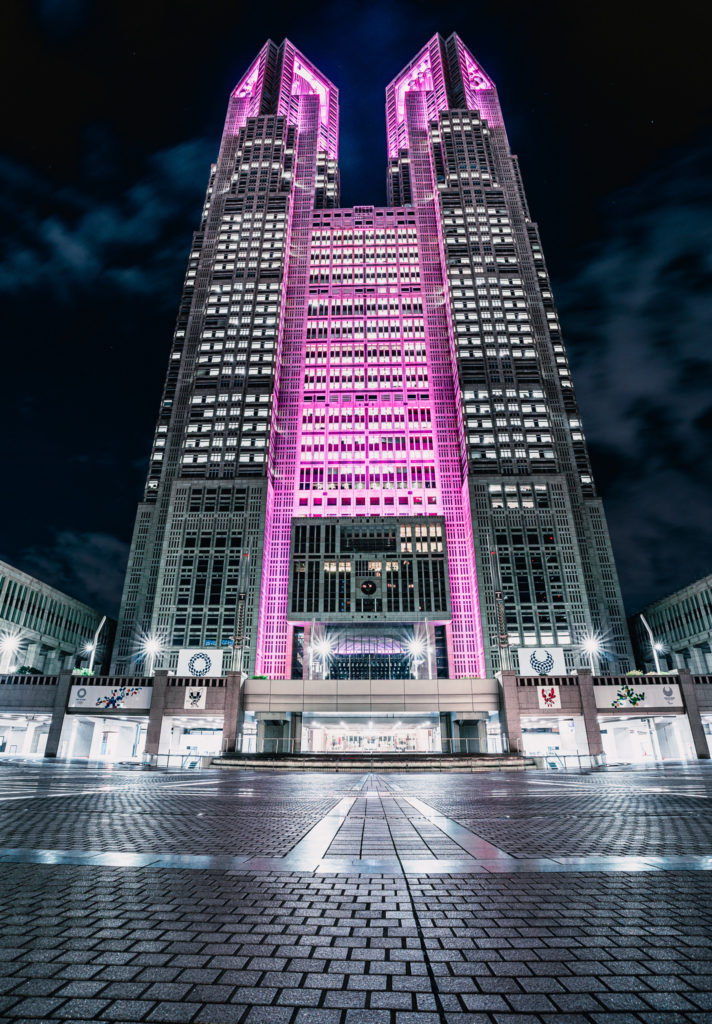 Note that the color of the lights changes depending on the event and the day, so it is not always pink.
Nishi-Shinjuku Junction
Although the nearest station here is not Shinjuku but Hatsudai, this is a spot where you can take pictures of the huge junction and the light trail of cars, which are not often seen.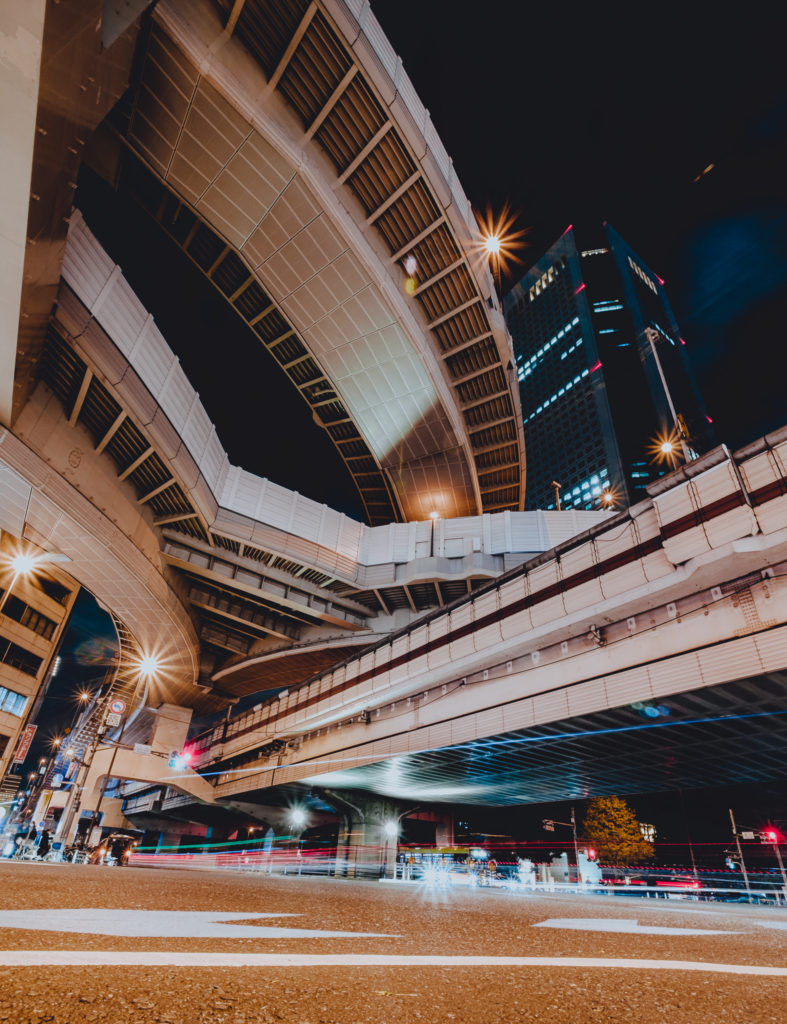 This spot can be obstructed by both cancerous people and cars passing by, so leave as soon as you get the photo you want.
Kabukicho
When you think of Shinjuku, you have an image of Kabukicho, right? And it is a somewhat scary image.
It used to be a scary place, but recently it has become more rounded and easier to photograph than before. However, there are many people and many stores open for business, so I recommend that you take only snapshots so as not to disturb them.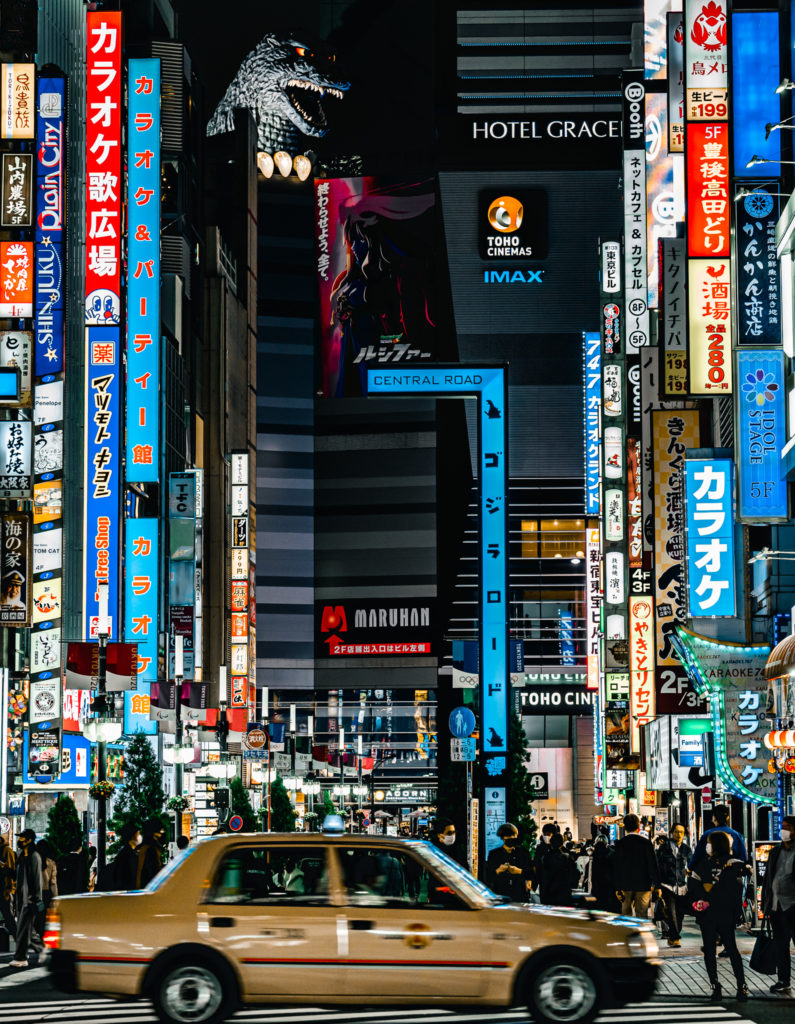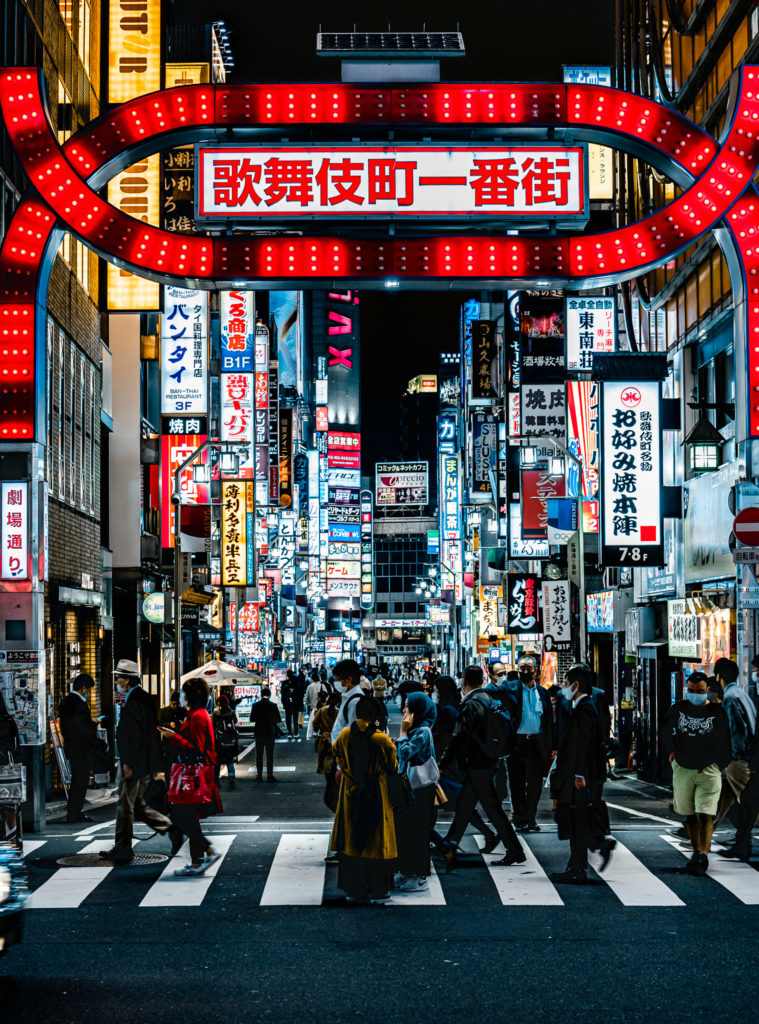 Such glittering neon lights are also a unique sight in Shinjuku.
Hakozaki Junction
This is probably the most famous junction in Tokyo.
It is a moving experience when you are able to take a well-timed photograph of the powerful junction, the light trails of cars, and the regularly arranged lights that accentuate the junction.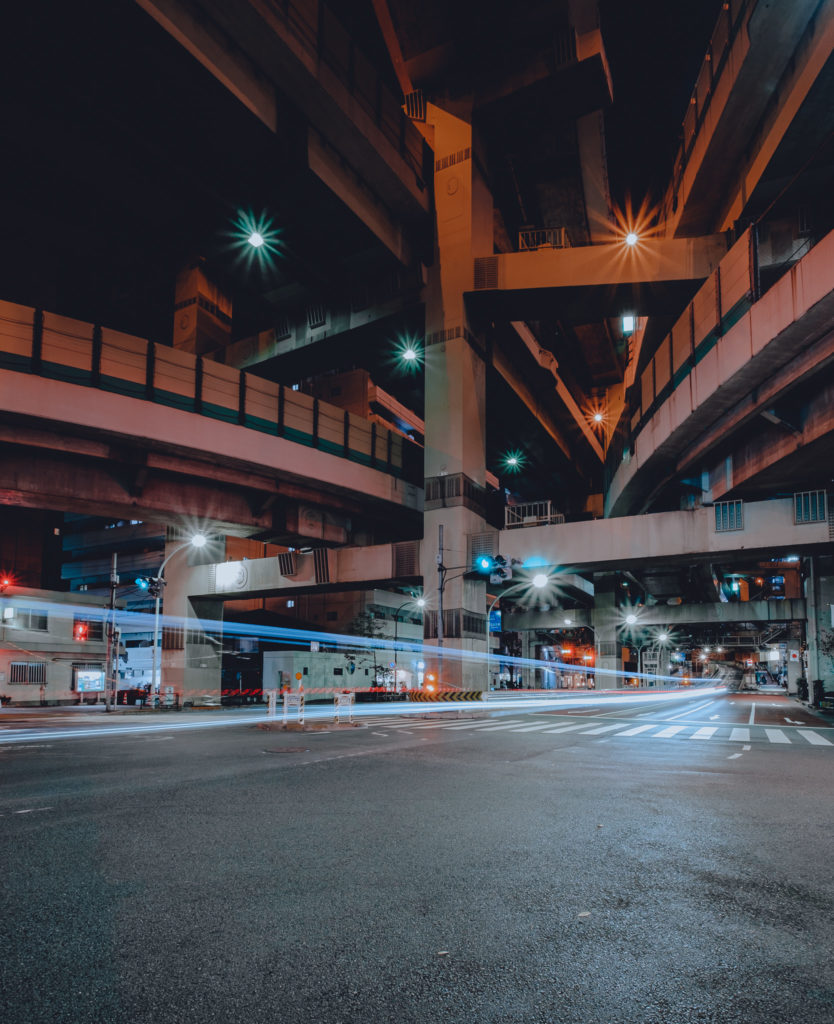 This is probably the most famous junction in Tokyo.
It is a moving experience when you are able to take a well-timed photograph of the powerful junction, the light trails of cars, and the regularly arranged lights that accentuate the junction.